Income and Expenditures in January 2023
Chief Economist Eugenio J. Alemán discusses current economic conditions.
The January 2023 personal income and expenditures report was another confirmation that the U.S. economy is far from slowing down, even as the Federal Reserve (Fed) continues to increase interest rates in order to try to push businesses to slow down hiring and prepare for a potential recession – a potential recession they seem to want more now than before, as inflation seems to have continued to defy expectations.
Although the January 2023 numbers were impressive, the trend may not continue in the following months because it is clear that a warmer winter contributed to Americans going all out in January, while employers were also hiring lots of workers during the first month of the year although we have heard lots of conspiracy theories regarding the way statistical agencies deal with seasonal adjustment factors and how that is distorting the numbers.
However, the truth is that December 2022 was a very cold month across the country and January 2023 was a very warm month across the country. Furthermore, it is also clear that even when we seasonally adjust for weather events like these, December 2022 seemed to have been a particularly weak month while January 2023 was just the opposite, a particularly strong month, even when seasonally adjusting the data so don't believe the conspiracy theorists.
This also means that these numbers may not be repeated because February 2023, or at least the end of the month, will be a particularly cold month and we will have to wait and see how the weather earlier in the month, compared to later in the month, affected individuals' consumption patterns as well as firms hiring patterns. Next Friday, we will get the employment numbers for February and that will shed some light on firms' side of the equation. However, we will not have information on consumption patterns for February 2023 until at least mid-March 2023.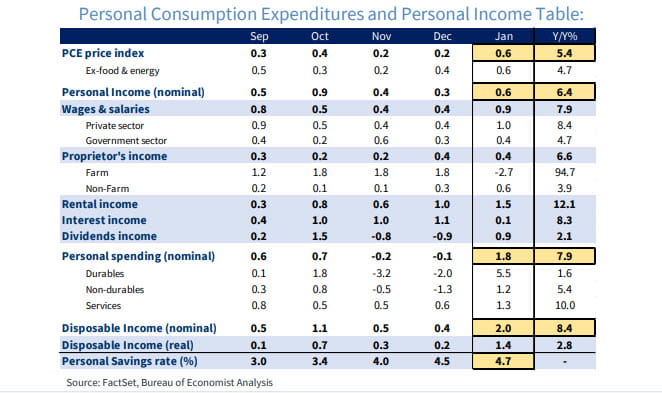 Click here to enlarge
Perhaps the most important news from this report was that, with the exception of the PCE price index, all the rest of the data looked positive, and this will probably mean that the first quarter of the year is going to be a relatively strong quarter. Growth in disposable personal income was very strong in both nominal as well as in real terms while personal consumption expenditures was also very strong, also in nominal as well as in real terms. But this wasn't all: The saving rate, that is, saving as a percentage of disposable personal income increased to 4.7%, an impressive recovery after decreasing to 2.7% in June 2022. Not only did Americans have enough income to go around spending but they managed to increase their saving rate at the same time.