Hurricane Ian's Economic Impact
The state of Florida is cleaning up after its tenth hurricane since the year 2000. Our thoughts go out to all of those who have been affected. Humanitarian considerations are taking precedence, as they should. But there are some important and interesting economic considerations that deserve some attention in the wake of Ian's devastation.
Damages estimates have been rising steadily, and will likely exceed $100 billion. Tourism, one of the affected region's leading industries, will be impaired in the coming months. Oxford Economics estimates that interruptions to key sectors could reduce American economic growth by 0.2% in the fourth quarter, from expected levels that were already modest.
Thereafter, rebuilding should be helpful to economic activity. Insurance claims will be paid out, and federal disaster aid has also been appropriated. The construction sector, which has been impaired by this year's interest rate increases, will be a primary beneficiary. Unfortunately, shortages of construction materials and contractors may delay progress.
Hurricane Ian has laid bare the challenges facing Florida's insurance industry. The increasing frequency and severity of weather events have made it very expensive to secure insurance in the state. Up to half of the damage done by the storm will be attributable to flooding, but less than one in five homeowners in the state has flood insurance. Expense is a main reason. Those who failed to secure policies face uncovered losses and the potential for financial ruin.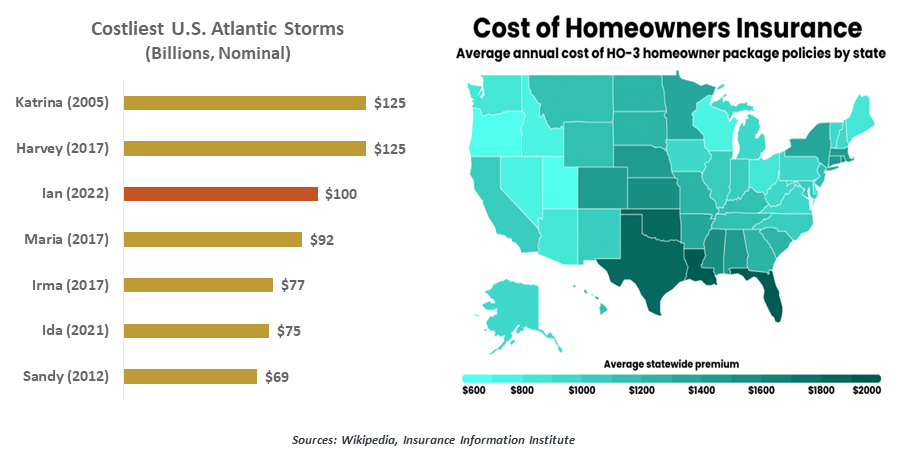 Property insurance rates in Florida are the highest in the country, partly the result of litigation. Florida accounts for 9% of the country's property insurance claims, but 79% of the lawsuits related to insurance claims. Carriers have been losing money in the state, and many have left. Six have been declared insolvent this year alone, and a number of others are on the watch list for potential failure. The industry has been pressing for legal reform, to no avail.