In a win (but not a complete victory) for "team transitory," the Consumer Price Index rose less than expected in August (+0.3%, up just 0.1% excluding food and energy). Areas that were running hot a few months ago (used cars, vehicle rentals, car insurance, airfares) retreated. The report on import prices showed a drop in prices of raw materials.
In contrast to expectations of a decline, retail sales rose more than expected in August (+0.7% overall, +1.8% ex-autos), although figures for July were revised lower (-1.8% overall, -1.0% ex-autos). Note that proprietary weekly retail indicators had shown strength in the first half of August but softness in the second half. Industrial production rose 0.4% in August (+5.9% y/y), with a mild drag from the effects of Hurricane Ida.
Next week: The Federal Open Market Committee's policy announcement is set for 2 p.m. on Wednesday. An increase in short-term interest rates is still a long way off, and we've not yet seen the "substantial further improvement" in labor market conditions that would trigger tapering (a reduction in the monthly pace of asset purchases, currently $120 billion), but tapering is expected by the end of the year (provided the economy improves as anticipated). Fed officials will revise their projections of growth, unemployment and inflation through 2024. (The median forecast of 2Q21 GDP growth is expected to be reduced from June's 7.0%.) We'll get a new dot plot, although the dots represent general expectations of senior Fed officials, not an actual plan.
Indices
| | Last | Last Week | YTD return % |
| --- | --- | --- | --- |
| DJIA | 34,751.32 | 34,879.38 | 13.54% |
| NASDAQ | 15,181.93 | 15,248.25 | 17.80% |
| S&P 500 | 4,473.75 | 4,493.28 | 19.11% |
| MSCI EAFE | 2,366.06 | 2,374.46 | 10.18% |
| Russell 2000 | 2,232.91 | 2,249.13 | 13.07% |
Consumer Money Rates
| | Last | 1 year ago |
| --- | --- | --- |
| Prime Rate | 3.25 | 3.25 |
| Fed Funds | 0.07 | 0.08 |
| 30-year mortgage | 2.96 | 3.02 |
Currencies
| | Last | 1 year ago |
| --- | --- | --- |
| Dollars per British Pound | 1.3795 | 1.297 |
| Dollars per Euro | 1.1771 | 1.185 |
| Japanese Yen per Dollar | 129.54 | 124.10 |
| Canadian Dollars per Dollar | 1.267 | 1.317 |
| Mexican Peso per Dollar | 19.922 | 20.869 |
Commodities
| | Last | 1 year ago |
| --- | --- | --- |
| Crude Oil | 72.23 | 40.97 |
| Gold | 1754.30 | 1949.90 |
Bond Rates
| | Last | 1 month ago |
| --- | --- | --- |
| 2-year treasury | 0.23 | 0.21 |
| 10-year treasury | 1.36 | 1.23 |
| 10-year municipal (TEY) | 1.45 | 1.4 |
Treasury Yield Curve – 09/17/2021

As of close of business 09/16/2021
S&P Sector Performance (YTD) – 09/17/2021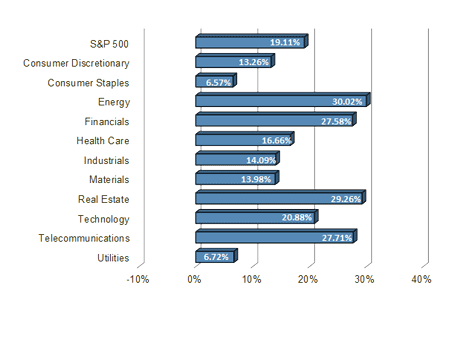 Economic Calendar
| | | |
| --- | --- | --- |
| September 20 | — | Homebuilder Sentiment (September) |
| September 21 | — | Building Permits, Housing Starts (August) |
| September 22 | — | Existing Home Sales (August) |
| | — | FOMC Policy Decision |
| | — | Fed Summary of Economic Projections |
| | — | Powell Press Conference |
| September 23 | — | Jobless Claims (week ending September 18) |
| | — | Real GDP (2Q21, 3rd estimate) |
| September 24 | — | New Home Sales (August) |
| September 28 | — | CB Consumer Confidence Index (September) |
| October 1 | — | ISM Manufacturing Index (September) |
| October 8 | — | Employment Report (September) |
| November 3 | — | FOMC Policy Decision |