Nothing Recedes Like Recession
Financial market volatility remained elevated in the first few days of 2019, but it's much more palatable when it is to the upside. Market participants remained concerned about a number of issues (global growth, trade policy, dysfunction in Washington), and fear remains a key factor in the outlook. Whether that fear abates or intensifies will tell the tale.
The employment report is composed of two separate surveys. The establishment survey (which covers 149,000 businesses and about 651,000 individual worksites) generates estimates of payrolls, wages, and hours. The household survey (of some 60,000 eligible households) yields reasonable estimates of the unemployment rate and labor force participation but terrible estimates of the monthly level of employment. The establishment survey covers the pay period that includes the 12th of the month (which can vary from firm to firm). The household survey is taken during the week of the 12th. The December Employment Report included annual benchmark revisions to the household survey data, but this was a very mild revision. The annual benchmark revisions to the establishment survey data (which ties the payroll estimate to actual payroll tax receipts) will be released next month, but early indications from the Bureau of Labor Statistics suggest that this will be a relatively modest revision.
The U.S. economy shed 54,000 jobs in December – before seasonal adjustment, that is. Adjusted, payrolls rose by 312,000 in the initial estimate for December, well above the median forecast of +175,000. The two previous months were revised higher. Job growth in the last three months rebounded from the third quarter's slower pace. Wage growth picked up more than expected (+0.4% m/m), pushing the year-over-year increase in average hourly earnings to 3.2% (3.3% for production workers). Adjusted for inflation, workers are finally seeing some gains from a tight job market.

Click here to enlarge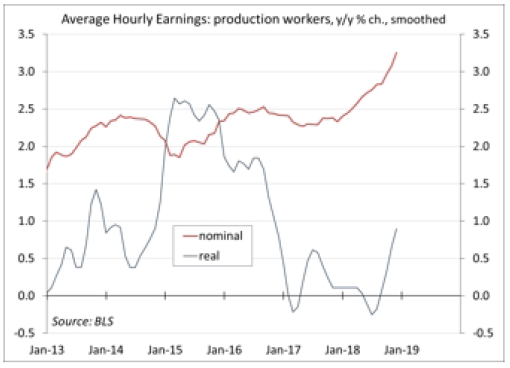 Click here to enlarge