The key phrase in Fed Chairman Powell's speech to the Economic Club of New York was widely misinterpreted by the financial press and, in turn, the markets. That's not unusual. The markets don't do nuance. Stock market participants were likely looking for an excuse to rally. Still, while policy decisions will remain data-dependent, the central bank can be expected to maintain a more cautious approach to raising rates in 2019. Lost to the markets, Powell also spoke of possible technical adjustments in how monetary policy is conducted and the Fed unveiled its new semi-annual Financial Stability Report.
Here are some of the press headlines from Powell's speech:
WSJ – "Fed Chairman Says Interest Rates Are Just Below Estimates of Normal"
CNBC – "Fed Chairman Powell now sees current interest rate level 'just below' neutral"
Reuters – "Dollar under pressure after Fed's Powell says U.S. rates near neutral"
CBS – "Federal Reserve Chair Jerome Powell suggested for the first time in two years, the Fed may be close to ending rate hikes"
NYT – "Fed's Powell in Apparent Dovish Shift, Says Rates Near Neutral"
That's wrong. Here is the actual quote: "Interest rates are still low by historical standards, and they remain just below the broad range of estimates of the level that would be neutral for the economy – that is, neither speeding up nor slowing down growth." The key part of the phrase is "below the broad range." Fed officials differ in their estimates of the neutral rate. In September, most saw the neutral rate as 50-75 basis points higher than it is now, implying two or three more rate hikes to get to a neutral level. Moreover, most Fed officials expected that the FOMC would need to move the federal funds rate above a neutral level in 2019 and2020. We'll get a new dot plot on December 19, and while the dots may drift a little lower, they ought not to change much.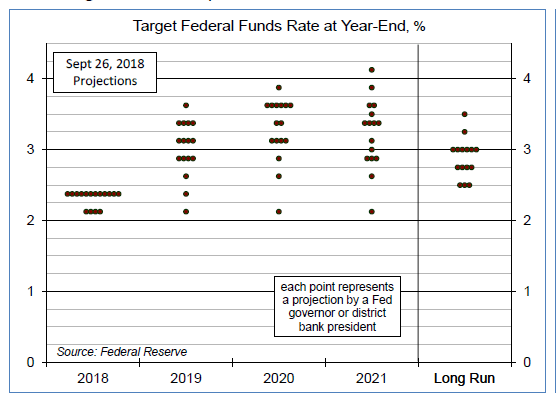 Click here to enlarge

Click here to enlarge