Poverty Going Extinct
The Great Middle
Measuring Relative Income
Crossing Classes
Lucky Days
Orlando and SIC
"We of the sinking middle class may sink without further struggles into the working class where we belong, and probably when we get there it will not be so dreadful as we feared; for, after all, we have nothing to lose."
– George Orwell
"A strong, educated middle class is what made America the greatest country in the world."
– Lincoln Chafee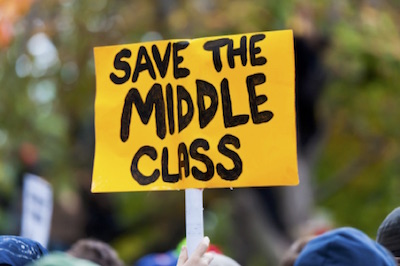 As we continue our tour of the widespread angst afflicting investors large and small today, I want to ask a more fundamental question: Is the angst all in our heads?
The quick answer: No, it's not. The economic challenges we face are real. Fear, or angst, is often a perfectly reasonable response. I've said that, with one exception, we can muddle through the coming crises. But "we" doesn't mean every single one of us. The nation will survive the next recession, but some of its citizens may not, at least not with the same financial security that they currently enjoy and expect. The coming pension crisis will put quite a dent in expectations. Economic strain can lead directly to sickness, disability, and sometimes suicide or fatal illness. It happens. I don't want to minimize that risk.
It's precisely the risk that we will find ourselves among those who can't muddle through that creates so much angst. Worse, we know the risks aren't randomly distributed. We have classes of Protected and Unprotected citizens, to use Peggy Noonan's terms. But even the Protected are afraid they may slide down the scale into economic oblivion.
Actually, they probably wouldn't slide much farther than the middle class – but they may find the middle class hollowed out when they get there. The middle class is a fairly new development in economics. Up until the last century or two, most societies had a tiny wealthy elite and great masses of common laborers. We now regard having this group in the middle, not wealthy but with their own assets and spending power, as a great achievement. We don't want to lose it, but some people fear we will.
If you delve into the economic and social-psychological literature, and if you can put up with the academic language that does its best to obscure what's actually being said, you will find that there is a general consensus around the idea that having a lot of money does not make us happy, once our basic needs are fulfilled. There is, however, some research – and it's controversial – which indicates that relative income is important. A majority of respondents would rather have more relative income than more absolute income, especially if they are relatively lower-income than everybody else. On the surface of it, that proposition doesn't make sense to many people; but we're dealing with human emotions and feelings, which often don't make sense. We just seem to be wired to want to keep up with – or do better than – the Joneses, and now many people suspect they are doing worse. (Remember, these studies measure only the average propensity, not what you and I might as individuals think or believe or feel.)
So, given the uncertainty of the times (and the data I will present here), there is reason for concern that the middle class is really under pressure. It's not just in their heads; it's an everyday, real-world situation.
With that in mind, we'll look at some new income data and see if it can help us control our angst.
All of this angst – no matter your current circumstances – makes it more difficult to make decisions now than it is in more confident times. Those of us in the publishing business, as well as in the money management business, know that it is in times of high anxiety that is the most difficult to get our clients and readers to actually respond. The best time to elicit a response is in a boom period, and the next best time is, ironically, just after a bust, when people are ready to figure out what to do. I say ironically, because it is precisely when we have an economic and political situation like the one we have today, when there is actually time to make proactive decisions, that it appears to be the most psychologically difficult to do so. We procrastinate; we become like Wilkins Micawber from Charles Dickens' novel David Copperfield, who was famously noted for saying repeatedly, "Something will turn up."
Let me suggest that now is the time you should be thinking hardest about taking action to have your house in order when we hit the next rough patch. Next week I'm going to start writing about what I am calling "The Great Reset." I think we are approaching that moment when the two greatest bubbles in human history – sovereign debt and government promises (which are conflated in many people's minds) – will burst, and politicians and central banks will be forced to take actions that are unthinkable today.