Don't Judge an Emerging Markets Strategy by Its Name
Diversified emerging markets strategies have the potential to be attractive long-term propositions for investors given concerns over slowing growth and rising prices in the West. Investors could be forgiven for assuming that all emerging market funds are broadly similar—funds that invest in developing markets with the aim of tapping into the trailblazers of the future.
The first thing to be aware of is that while emerging markets funds typically hold the majority of their assets in markets considered to be transitioning onto the global stage, they can, and do, have exposure to developed world assets. In some cases, allocations to American or European companies might exceed those of other geographies. It can be appropriate for an emerging markets fund to hold companies that are headquartered in developed markets and have substantial, strong, sizeable businesses in developing Asia or other developing markets. However, it might be a stretch to buy an American software company where perhaps the number of users in emerging markets is large but there isn't a meaningful revenue stream or asset exposure.
Another thing to consider is how geographically concentrated a fund is. South Korea and Taiwan have some dynamic companies but aren't particularly large economies and yet they are a substantial part of many emerging market indices.
The weightings of some emerging markets funds can also look similar to the weightings of the benchmarks of these funds. This can exclude exposure to potentially fast-growing companies in places like Vietnam or other frontier geographies which track different indices. For investors wanting a strategy that works hard to find growing companies with robust business models, an actively-managed fund looking beyond the benchmark—coloring outside the lines so to speak—may be more appropriate. Just as important as finding opportunities away from the crowd is omitting popular but less attractive propositions.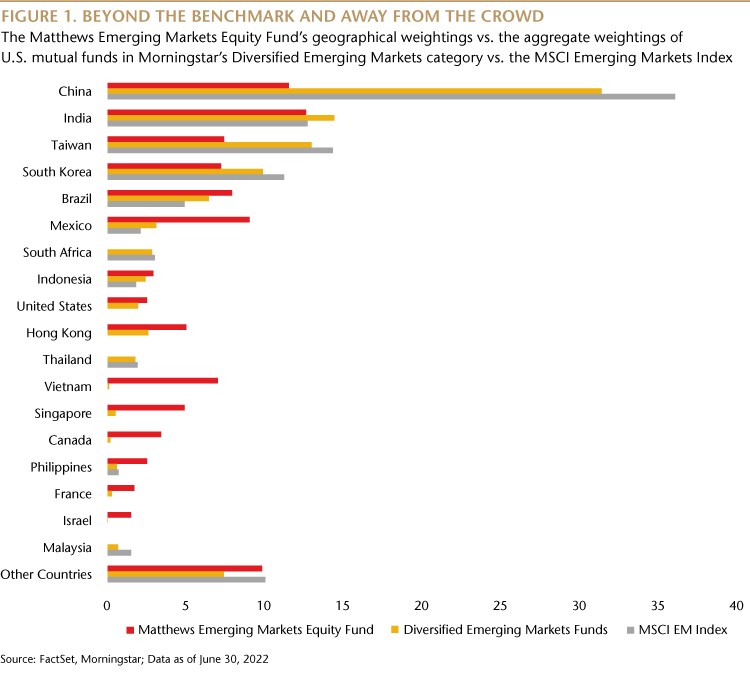 The Matthews Emerging Markets Equity Fund, for example, considers whether a business it is analyzing is a quality company and what influences that company as it relates to the country where it operates. John Paul Lech, Lead Portfolio Manager of the Fund, focuses on companies that have the potential to provide attractive, sustainable growth, with management teams who can translate growth and innovation into positive cash generation. The Fund draws on the expertise of its portfolio managers and on-the-ground research to dig deeper to understand how companies earn their profits, what the growth drivers are and where their customers originate. Investing in emerging markets is about looking forward and identifying companies that can power their own growth.