Supply Side Problems Persist
"Supply chain" used to be a piece of business jargon that rarely made its way into normal conversations. Today, it has become ubiquitous. Web searches for the term almost doubled between June and October 2021, temporarily overtaking "interest rates" as a subject of inquiry. Supply chain issues dominated the third quarter earnings season, with over 3,000 mentions by the executives of major corporations.
When supply chains work efficiently, store shelves and warehouses are filled, ensuring an uninterrupted flow of goods to consumers. But COVID-19 has introduced immense disruptions, which have left consumers and manufacturers to endure shortages of a wide range of items. These frustrations aren't likely to end anytime soon.
As COVID-19 vaccines became widely available and economies reopened last year, consumption rebounded strongly. As consumption shifted from goods to services like travel and entertainment, expectations rose that the pressure on delivery channels would ease. However, the pandemic-induced increase in demand for goods has persisted even as demand for services returned to pre-pandemic levels in many places.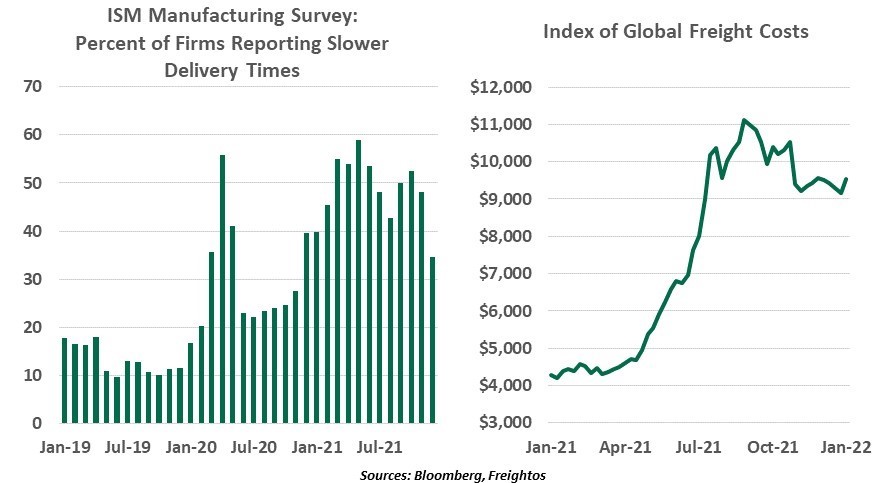 As a result, firms which relied on "just-in-time" processes and holding little inventory have been scrambling to carry on. Apart from the persistent strength of demand, factors like factory shutdowns in Asia, labor shortages in trucking, and a blockage in the Suez Canal have exacerbated disruptions in logistics. Sourcing has become increasingly concentrated in recent decades, so it has not been easy to find new supplies of scarce products.
Wave after wave of disruptions have led to increases in shipping costs, port congestion and extended delivery times. Higher energy prices and rising raw material costs added to the pain. Most experts anticipated that supply networks would repair themselves in fairly short order, but have been humbled by how long the bottlenecks have persisted.