Summer is the peak season for travel, and travelers know that every voyage will have its ups and downs. Road trips encounter traffic; train schedules are not always reliable; flights have turbulence, delays and cancellations (especially this year). But in the end, we do not remember the difficulties, but the good times spent at our destinations.
The U.S. economy is broadly on a path toward a year of fantastic growth, but there are bumps on the journey. Supply chain disruptions are weighing on output, while the delta variant of COVID-19 is causing some reopening plans to change. At this time, a return to lockdowns seems highly unlikely, but the path to a full recovery will be choppy.

Key Economic Indicators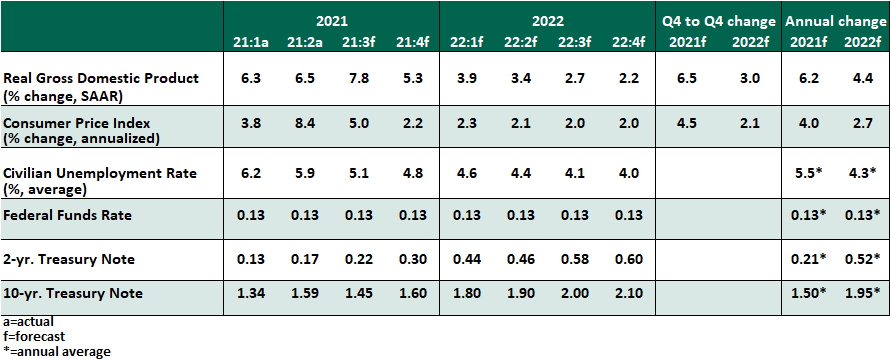 Influences on the Forecast
The July Employment Situation Summary delivered evidence of a rebound in labor markets. 943,000 jobs were created, and the unemployment rate fell to 5.4%. The prime-age (25-54) labor force participation rate reached a post-pandemic high of 81.8%, but still has ground to recover to get back to its pre-crisis peak of 83%. Over six million people are estimated to be out of the labor force but want a job, and further job creation will bring widespread economic benefits as these people return to work.