Slow Brexit, Overloaded Shippers, Growing Fed Balance Sheet
Smmary
Brexit: Down To The Wire Again
This Holiday Season: Failing to Deliver
The Fed Assesses Asset Purchases
In 1918, the world witnessed the end of World War I, but it was not the end of the world's problems. The lingering Spanish Flu pandemic curtailed celebrations of peace.
This week, the U.K. became the first major Western economy to roll out a COVID-19 vaccine to the masses. Inoculation, according to British Prime Minister Boris Johnson, is a "tremendous shot in the arm for the entire nation." Unfortunately, there a real possibility that Britain will have to temper its vaccination celebration. Failure to secure a Brexit deal with the EU would deliver another, less happy jab.
Negotiations between the U.K. and European Union (EU) on a post-Brexit trade deal are running out of time as the December 31 deadline approaches. Brexit couldn't even feature in this week's two-day EU summit as its leaders were busy seeking a plan to unlock the regional budget, which includes critically-needed economic stimulus.
Roadblocks to a Brexit agreement are limited in number, but stubbornly persistent. The ability of Britain to support its national champions is one of them. When a state backs its domestic providers, it creates an unlevel playing field. Its trading partners might justifiably use tariffs to even things up.
The U.K. nonetheless wants a guarantee of tariff-free commerce with the EU, which the Europeans have pushed back against. The British side has noted it has been much less prone to using state aid than have other European nations.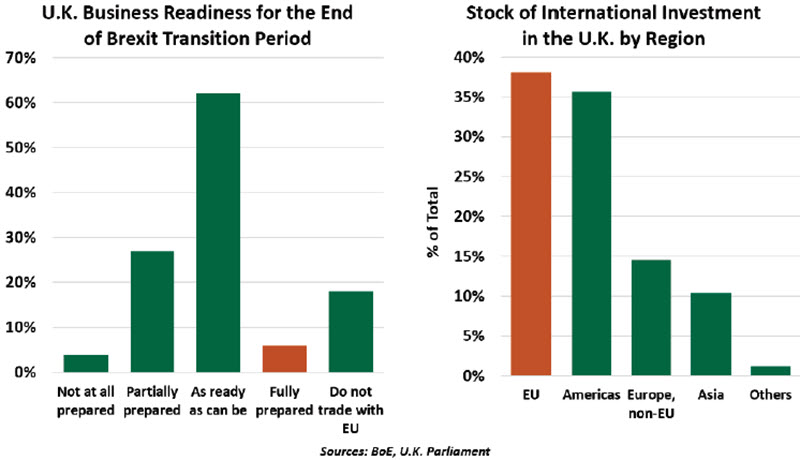 Fisheries are also contentious. The United Kingdom wants a big increase in its fishing rights based on the location of fish; Europe is insisting on continuing the current system, in which its fishermen enjoy a much larger share of fish quotas in British waters.
With the U.K. and key EU member states suffering more from COVID-19 than other advanced economies, a deal is in the political and economic interests of all parties. While the U.K. government claims advances have been made in its preparation for Brexit, businesses still don't have clarity on how the borders will operate after January 1. A November Bank of England survey of chief financial officers showed that only 6% of them were fully prepared for the end of the transition period.
"Businesses aren't fully prepared for a Brexit deal, let alone the risk of a no-deal Brexit."
Decades of progress toward free movement of goods, services, people and capital will be affected if the U.K. leaves the European single market and customs union without a deal. Neither side wants a cliff-edge scenario: the European Commission's contingency plan offers air and road connectivity to the United Kingdom for a limited time into the new year. The U.K., too, will delay full checks for goods arriving from the EU until July 1, 2021.