Allocation Views: 2020 Appears Tilted to the Downside
While US-China trade tensions and other concerns prompt a cautionary stance when it comes to risk assets, Franklin Templeton Multi-Asset Solutions' Ed Perks and Gene Podkaminer nonetheless remain positive about the US equity market in the year ahead, citing a number of long-term growth drivers that still remain in place. In the latest edition of "Allocation Views," they share their 2020 outlook.
Thoughts for 2020 and Beyond
Financial markets spent most of 2019 torn between signs that the current expansion is mature and optimism that policymakers stand ready to sustain growth in the years ahead. As we look ahead to the coming year, we retain a modestly cautious position, balancing the evident risks that lie ahead with the longer-term return potential of riskier and higher-yielding investments.
The slowdown in global trade that has been the dominant economic theme this past year may be showing signs of stabilization, and investors are prepared to look favorably on the signs of détente in the US-China trade negotiations. Progress toward a trade deal, and whether it might be delivered before year-end, appears less certain but also an ever-changing feature of the investment landscape. We observe the evolving situation with interest but remain unconvinced on its near-term impact on growth.
However, when we look to 2020 as a whole, we continue to view the balance of risks to global growth as being skewed to the downside, even as the worst fears of slowdown may have eased. Germany narrowly avoided a technical recession by posting the most modest of quarterly growth rates in the third quarter, after contracting in the previous period. This superficially good news might be viewed as easing the pressure to deliver additional fiscal stimulus in one of the eurozone countries with the greatest flexibility to do so. At the same time, the cumulative hit to confidence is gradually impacting the broader economy, and with factory orders remaining in a continued steady decline (see chart below), the headwinds remain evident.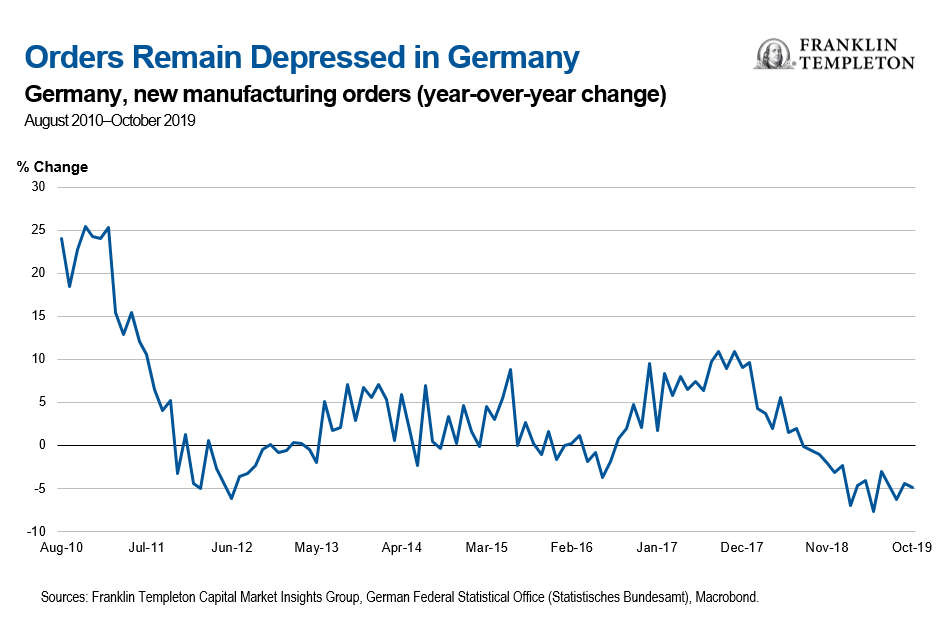 Longer-Term Drivers of Growth
At our Annual Investment Symposium in November, we debated the longer-term themes that impact our analysis of the global economy. This saw the Multi-Asset Solutions team engage in collaborative dialogue with senior leaders and CIOs from across Franklin Templeton's wide range of asset class specialists.
This year, our focus was on populism, debt levels and policy response in the next downturn. We noted that growth has disappointed this cycle, failing to deliver the broad increase in prosperity seen in earlier decades, compounding the rise of inequality. How policymakers respond to populism, and pressures such as climate change, will determine the long-term trajectory of absolute growth and relative prosperity.