summary
Carrying On With Brexit
Getting Phase One Done
Reflections on Paul Volcker
Membership in the European Union (EU) has been a topic of debate in the United Kingdom ever since the country joined the European Economic Community in 1973. Just two years after joining, the U.K. held its first referendum on the issue of continuing membership in the Common Market. Thirty-one years later, the nation held its second referendum on the same issue, and opted to depart.
It's been more than three years since that vote, during which Brexit has been a subject of considerable uncertainty. But yesterday's elections offer some additional clarity to Britain, its trading partners, and the financial markets.
The last U.K. elections in 2017 saw former Prime Minister (PM) Theresa May lose her gamble for a larger majority that would bolster her position in Brexit negotiations. The Tories were left with fewer seats, and the seeds were sown for May's eventual downfall. Two-and-a-half years later, her successor (current PM Boris Johnson) won his gamble for additional leverage, securing a resounding majority in this week's election.
The outcome should clear the way for the U.K. to leave the EU on January 31. The Brexit deal that Johnson worked out with his European counterparts in October details the terms of the separation: the U.K. will leave the EU customs union, de-align from European regulations by the end of 2020 and seek a limited free trade agreement with the EU. EU citizens working in Britain will be allowed to stay, and a £39 billion divorce bill has been agreed. The resolution could help arrest the persistent economic decline that Britain has suffered since the end of 2016.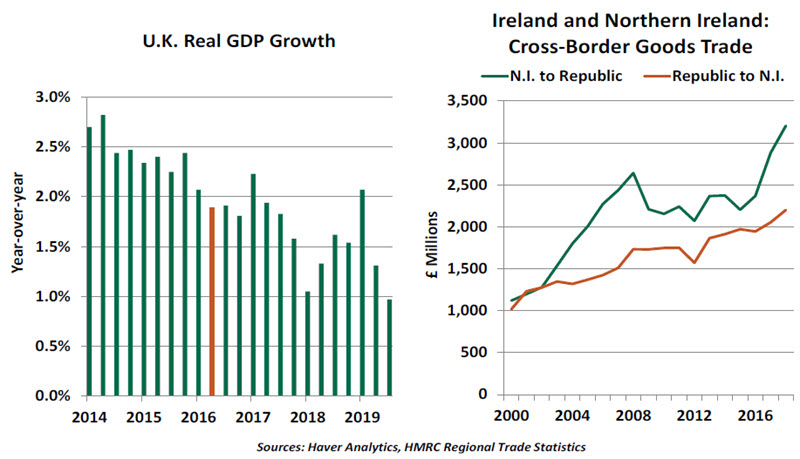 Importantly, the tentative deal does a reasonable job of addressing the difficult issue of the Irish border, which should preserve the considerable trade between Northern Ireland and the Republic of Ireland. Under the terms of the deal, Northern Ireland would become part of the U.K. customs territory rather than the EU customs area and would comply with certain EU rules. Legally, there would be a customs border between Northern Ireland and the Republic of Ireland. The checks, however, would take place on a customs border between Great Britain and the island of Ireland, with goods being checked at "points of entry" in Northern Ireland.
With renewed leverage in Parliament, reports suggest that Johnson is aiming for a parliamentary vote before Christmas. That would allow plenty of time for the Europeans to secure the needed assent from their members. If all goes smoothly, Britain will begin a transition period in February that will involve a great deal of work.
"The election resolves some Brexit uncertainty, but leaves many unknowns."