China's Slower Growth, the Laffer Curve, and Rate Cuts in Australia
summary
Has the Dragon Lost Its Fire?

Tax Cuts Rarely Pay for Themselves

Australia Approaches Zero
Vaibhav Tandon reports on China's economic performance.
After a gap of three years, my work calendar finally permitted me to celebrate the festival of Diwali with my parents and relatives. We have a pretty big family, with a few younger members. Among them is my six-year-old nephew, who loves to read story books. He was reading the book "The Dragon Who Lost His Fire" by Teresa J. Reasor, a story about a grumpy dragon who struggles to overcome the angry attitude that has stopped him from breathing fire.
The dragon in the children's tale isn't the only one working through a difficult transition. The Chinese economy is also struggling to get its fire back. After three decades of incredible growth, the Chinese economy has spent the better part of the past decade gradually losing heat. But the latest run of weak economic data has caused some to wonder whether China has lost its spark.
The official Chinese data, the veracity of which is debatable, has painted an increasingly cloudy outlook. China's real gross domestic product (GDP) growth fell to a 6.0% year-over-year rate in the third quarter, a multi-decade low. Incoming data shows a further loss of momentum: Industrial activity, in particular, remains weak. Auto sales have been contracting since July 2018. Fixed asset investments by businesses have been trending lower.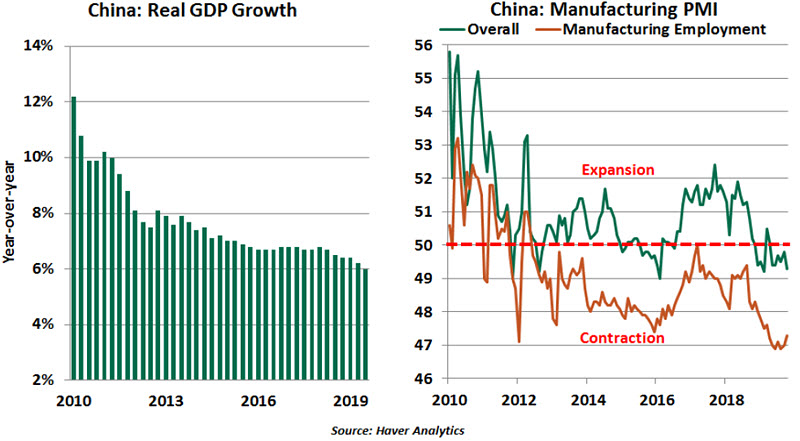 As illustrated by the purchasing managers index (PMI), China's tariff-battered manufacturing sector is in retreat. The protracted trade war with the U.S. has caused overall Chinese exports to contract by 1.3% over the past year. Exports to the United States are down a whopping 16% over the same period. Exports to Asian economies like Japan and South Korea have also dropped, implying a shift in global demand and trade flows. The trade war has also prompted several multinational corporations to reassess their supply chains. The broad slowdown and deflation in producer prices have squeezed companies' profits.
"Underneath official statistics are clear signs that China's economy is slowing."
Diverse indicators ranging from freight shipments to factory power generation to expenditures on entertainment are all slowing. China's office market reached its highest vacancy rate in a decade. Regional banks are failing at an increasing rate. In the first ten months of 2019, 831 local governments entered default, compared to just 100 in all of 2018. Even large cities like Nanchang, the capital of Jiangxi Province, are being sued for defaults. Forcing governments to pay their contractor bills is challenging as there is no formal regulation allowing seizure of government assets to settle dues. Taken together, this bad news suggests official GDP statistics understate the extent of the slowdown. A study by the Brookings Institution revealed that China over-reported its GDP growth by around two percentage points (on average) between 2008 and 2016.