Fed Gives US Interest Rates Another Bump in June
The US Federal Reserve continued its tightening path at its June policy meeting, raising its benchmark interest rate for the second time this year and seventh time since December 2015. Chris Molumphy, chief investment officer, Franklin Templeton Fixed Income Group, offers us a snapshot of the US monetary policy landscape in the wake of the meeting.
At its June monetary policy meeting, the Federal Reserve (Fed) raised its benchmark interest rate, the fed funds rate, by 25 basis points to a range of 1.75% to 2.00%. The Fed also released updated forecasts in terms of monetary policy and economic projections. The market seems to be taking the Fed's latest move and guidance in stride.
The Fed is now forecasting four interest-rate hikes this year. At the March meeting, the projection was for three rate hikes. We would not put too much emphasis on this, as the consensus of Fed policymakers was largely the same. The Fed's "dot plot" showed eight individuals expected four or more quarter-point rate hikes over the course of 2018, just one more than in March. Accordingly, one less individual saw three or fewer hikes.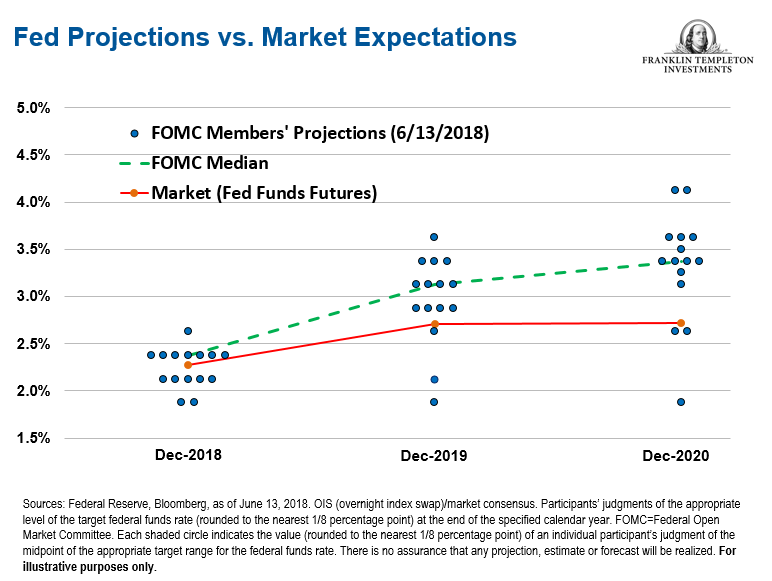 While the headlines are likely to focus on this increased number of rate hikes, to us, it's not all that important whether the Fed raises rates three times this year or four. We are more focused on the pace of change and the terminal rate—where the Fed will stop raising rates—and in the amount of time it takes to get there. To us, the pace of policy tightening remains measured, and modest.