Fed Delivers Another December Rate Hike
The US Federal Reserve delivered another interest-rate hike at its December monetary policy meeting, marking the fifth such move in its tightening series starting in December 2015. Chris Molumphy, Franklin Templeton Fixed Income Group CIO, offers his take on the market implications. He says that while rising rates may give some investors pause, in the grand scheme of things, US interest rates still remain quite low, and are only just returning to more "normalized" levels.
As expected, at its December meeting the Federal Reserve (Fed) raised its benchmark interest rate, the fed funds rate, by 25 basis points to a range of 1.25% to 1.5%.
Given a reasonably healthy economic backdrop in the United States, the Fed's move was certainly not a surprise. The Fed's own forecast had called for three interest-rate increases this year, and it delivered. The market had been dubious that the Fed would follow through with its intentions, and for a while—2016 in particular—it was right. But 2017 played out largely according to the Fed's projections.
Three points stood out to me as key takeaways.
The Fed raised its US growth forecast for 2018 to 2.5%, which is significant
At the same time, its inflation outlook remained the same
The path of interest-rate normalization is expected to continue in 2018
As we look ahead, the Fed has again forecast three more rate hikes in 2018, which you can see reflected in its latest "dot plot." The market still remains slightly skeptical of the Fed's forecast, but seems to be coming around a bit.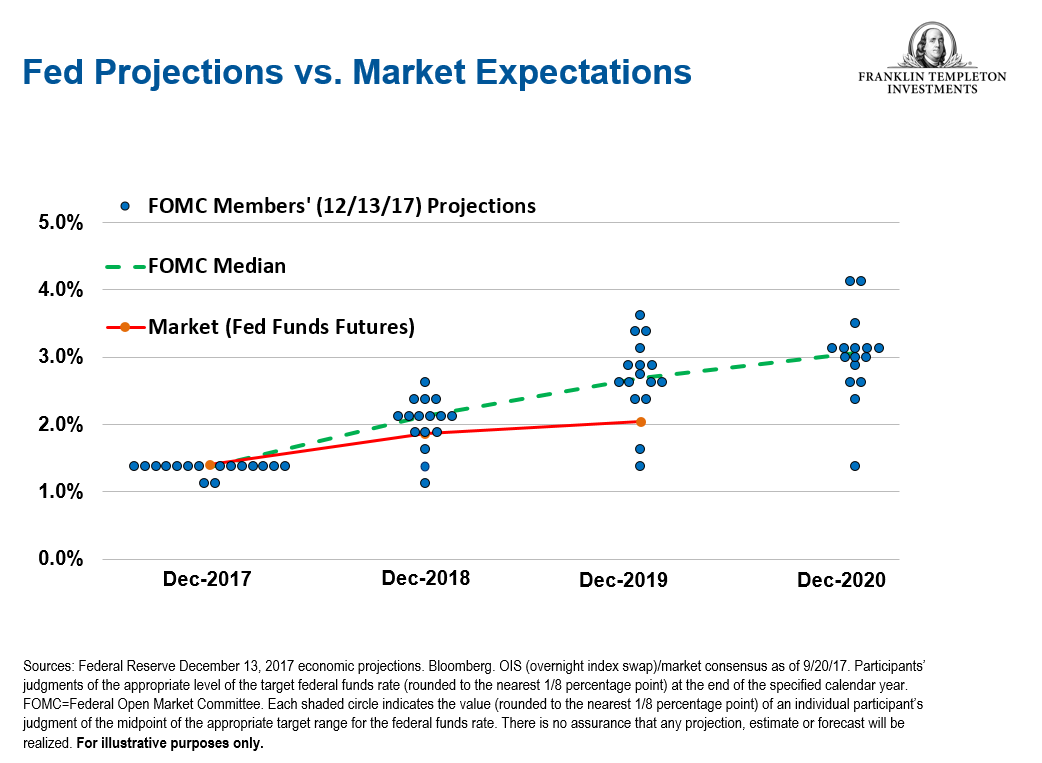 "Lower for Longer" Still in Play
Our view is that positive US fundamentals will indeed lead the Fed toward its planned path of reasonably moderate rate increases in 2018, with the emphasis on moderate. The Fed has put its terminal rate—the "neutral" rate at which it will stop tightening—at 2.75%, which was recently lowered from an earlier median target of 3%.
It's important to note that the United States is still historically in a very low interest-rate environment, and frankly, keeping rates close to zero for a prolonged period really isn't healthy. In our view, this tightening cycle actually represents a normalizing of rates.