Fed Officials Weigh Outlook Amid Tighter Credit, Price Pressures
Two Federal Reserve officials signaled they favored pausing interest-rate increases, while a third policymaker suggested the central bank may have more work to do in its inflation fight.
"We at the Federal Reserve probably have more work to do on our end to try to bring inflation back down," Minneapolis Fed President Neel Kashkari said Monday during a moderated discussion in St. Paul, Minnesota.
"The labor market is still hot, and we have not seen much softening in the labor market. So, that tells me that we have a long way to go before we get inflation back down," he said.
Kashkari, who votes on policy this year, was the third Fed official to weigh in on policy following remarks from his Atlanta Fed counterpart Raphael Bostic and Chicago's Austan Goolsbee.
The Federal Open Market Committee raised rates by a quarter percentage point at a meeting earlier this month, bringing its benchmark to a target range of 5% to 5.25% and signaling it may be ready to pause its tightening cycle at the next meeting in June.
His Chicago Fed colleague Austan Goolsbee told CNBC that it had been a close call whether he dissented against the rate hike policymakers delivered earlier this month, out of concern that officials not over-tighten, though he ultimately voted to go along with it.
"There is still a lot of the impact of the 500 basis points we did in the last year that's still to come. And you add on that there are tight credit conditions. And I think that we should be extra mindful," he said.
"We need to take that into account and the only way to do that is sit and watch it," Goolsbee added, though he stopped short of endorsing a pause in June, saying officials still had several more weeks of incoming data to assess.
2023 Outlook
Investors bet that the central bank will hold rates next month but begin cutting later in the year. Bostic pushed back against that outlook.
"My baseline case is we won't really be thinking about cutting until well into 2024," he said in an interview earlier on CNBC. "If you look at most measures of inflation, they're still two times where our target is. And so that's a long distance still to go."
Fed leaders are trying to assess the impact on credit and the overall outlook from recent banking failures. A Fed survey released last week showed that banks reported tighter standards and weaker demand for loans in the first quarter, extending a trend that began before the latest stresses in the banking sector emerged.
"We're seeing the tightening that needed to happen and now the question is how much is that really going to bind on activity," Bostic said. "The appropriate policy is really just to wait and see how much the economy slows from the policy actions that we've done."
Hiking Bias
While Bostic made clear that he now favors putting policy on hold for now, he also suggested that the next move may be more likely to be up than down, given the persistence of price pressures.
"If I had a bias between going up and going down as our next action, I would say we might have to go up. What we've seen is that inflation has been persistently high. Consumers have been really resilient in terms of their spending and labor markets remain extremely tight," he said. "All of those suggest that there's still going be upward pressure on prices. That is not my base case either."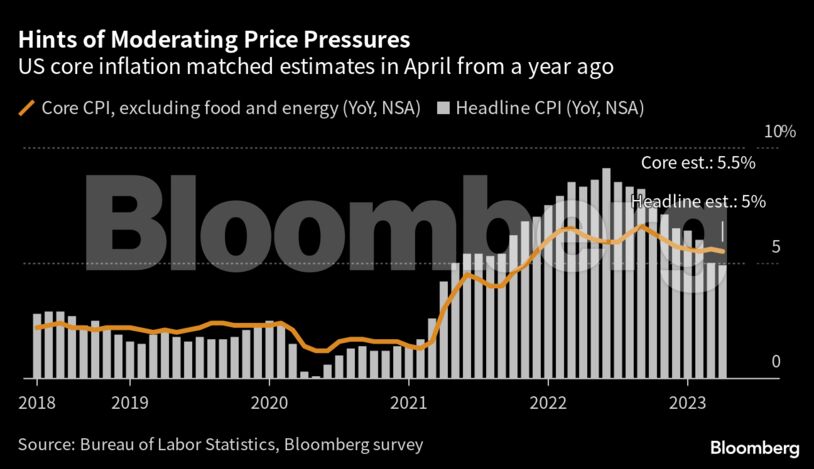 Prices climbed 4.9% from a year earlier in April, consumer price index data released Wednesday showed, the first sub-5% reading in two years. Excluding food and energy, the so-called core inflation rate also moderated.
While the Fed targets a different yardstick of annual price movements - the personal consumption expenditures gauge — all measures are running at more than double its 2% target pace.
The labor market has run hotter than expected by Fed leaders. US employers added an unexpectedly solid 253,000 jobs last month, government data showed. The unemployment rate fell back to a multidecade low of 3.4%, and average hourly earnings rose 4.4% from April last year.
A message from Advisor Perspectives and Vetta Fi: To learn more on this and other topics, check out our full schedule of upcoming CE-approved virtual events.
Bloomberg News provided this article. For more articles like this please visit bloomberg.com.