Boomers Face Higher Student-Loan Bills When U.S. Moratorium Ends
Older borrowers will be among the hardest hit when student-loan payments resume for more than 40 million Americans after a pandemic freeze, according to research by Fidelity Investments Inc.
When payments resume at the beginning of February after a 22-month hiatus, Baby Boomers with student debt will have to repay $620 monthly, or about $7,400 a year, on average, according to Fidelity estimates.
That compares with an overall average of $515 a month, Fidelity data show. Baby Boomers, who are age 57 to 76, typically have a larger loan balance and pay higher interest rates.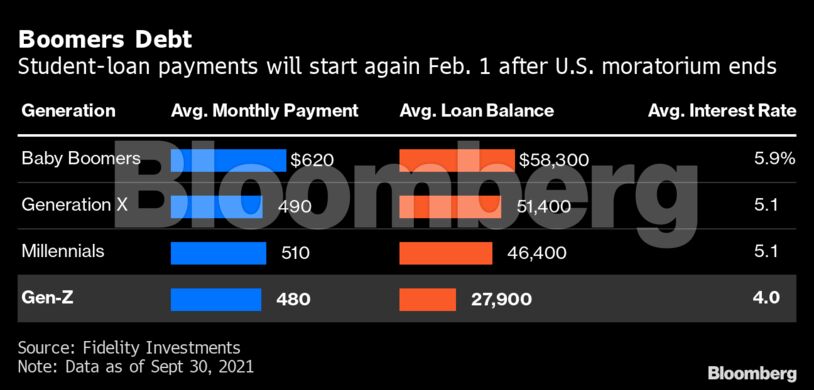 Fidelity's $515 monthly average is higher than estimates from education data providers, which typically evaluate the cost at about $390, based on the total number of borrowers and the outstanding student-debt burden in the country.
Fidelity's analysis is based on 60,000 users with over 210,000 loans who shared their student-loan information with the financial-services company as of Sept. 30. These borrowers, who averaged almost three student loans each, were seeking strategies for repayment, meaning they likely carried higher debt levels.