Debt-Limit Default Risk Is Higher Than Ever. How Can You Safeguard Your Wealth?
The risk of a US debt default is greater than it's ever been, threatening to tip global markets into a brand-new world of pain. For investors, there are few places to hide other than the oldest hedge in the book: gold.
The precious metal is by far the top pick for those seeking protection in case Washington's game of chicken over the debt ceiling ends in a crash, according to Bloomberg's latest Markets Live Pulse survey. More than half of finance professionals said gold is what they would buy if the US government fails to honor its obligations.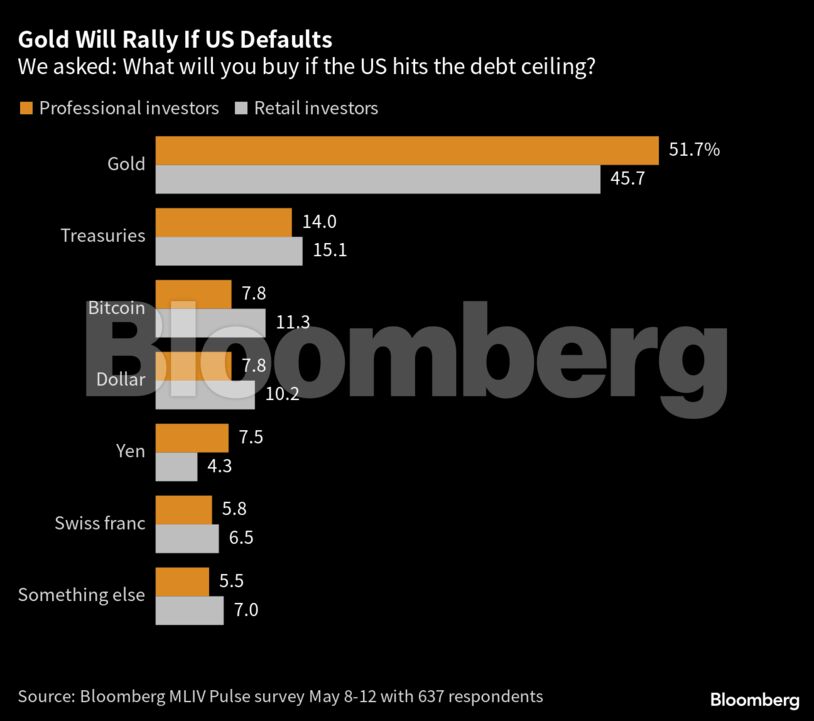 Even more striking is the shortage of alternative hedges. The second most popular asset to buy in the event of a default, according to the global survey of 637 respondents, was US Treasuries. There's something of an irony to that given that's the very thing America would probably be defaulting on.
But it's worth bearing in mind that even pessimistic analysts see bill holders getting paid— just late — and that in the case of the most fraught debt crisis in previous years, Treasuries rallied even as the US had its top credit rating removed by Standard & Poor's.