Debate Emerges Over How to Shrink Fed's $8 Trillion Bond Pile
Federal Reserve officials have begun debating how to approach shrinking a stockpile of more than $8 trillion of bonds as a key element of a policy-normalization campaign in the wake of unprecedented moves to shore up the economy during the pandemic.
While there was a consensus that current conditions are notably different to the last time that the Fed embarked on scaling down its balance sheet, a diversity of views emerged at the Fed's Dec. 14-15 meeting, minutes of that session showed on Wednesday.
The discussion last month began with a presentation by Fed staff members on the last policy-normalization campaign, which started with raising the key overnight interest-rate target and then two years later was complemented by shrinking the central bank's bond portfolio.
That episode ended in controversy, with the Fed having been blamed by some market participants for taking too much liquidity out of the financial system, undermining confidence and roiling markets. Last month's discussion alluded to issues with the 2017-19 experience, without detailing them.
"The previous experience highlighted the benefits of maintaining the flexibility to adjust the details of the approach to normalization in response to economic and financial developments," the minutes said.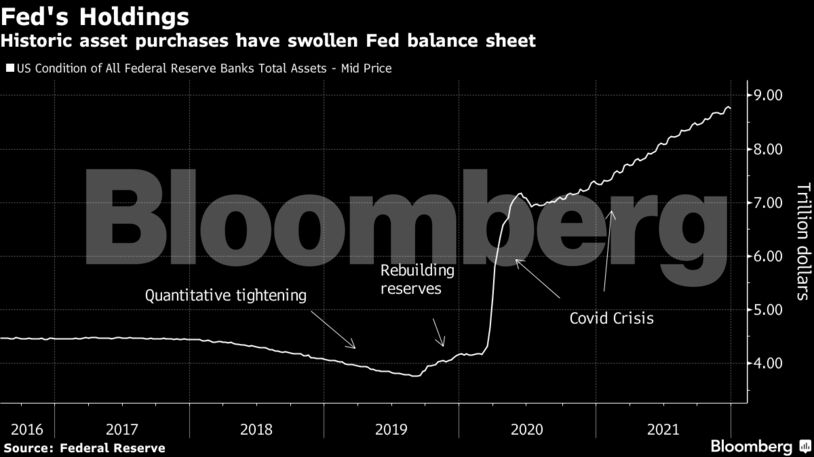 Participants in the meeting "generally emphasized" that boosting the key federal funds rate target would be the "primary means" for the Fed to tighten. Three reasons were cited:
There's less uncertainty about the impact of rate hikes than on shrinking bond holdings
Rate increases are easier to communicate to the public
It's easier to tweak the rate-increase plan than the process of running down the bond portfolio